WHY VAN VIJFEIJKEN?
Our promise to you: top quality dutch machines, for the best price. 
Van Vijfeijken is a family business with over 35 years of experience in buying and selling trucks, trailers and machinery. Founded by father Noud van Vijfeijken and expanded together with his son Frans van Vijfeijken. Throughout the years of existence the company has built a global and trusted clientele. The open culture, transparency and personal contact are central at our company, this combination has led us where we are today and are happy to keep welcoming our trusted clients over and over. 
Van Vijfeijken has a wide range of trucks, trailers and machines with the best price/quality ratio. We have a wide variety of trucks within our fleet, including: concrete mixers, tractor units, concrete pumps, tippers and crane trucks. We offer the best brands in the business like: Volvo, DAF, Mercedes-Benz, Scania, Putzmeister, Schwing, Stetter, Palfinger, Hiab, Hyva, Meiller and AJK. All our trucks are inspected thoroughly by our workshop, come with all the documentation needed  and are maintained to the highest standards. 
Furthermore, we offer a wide variety of trailers including flatbed-, refrigerated trailers and lowboy trailers. In addition to that, we also offer construction machinery such as mobile cranes and excavators. Our wide range of mobile cranes stretches from 30 to 400 tons, with top quality brands like Faun, Grove and Liebherr. Our mobile cranes are serviced, maintained and inspected according to the highest standards and requirements, in order to offer you the best quality possible.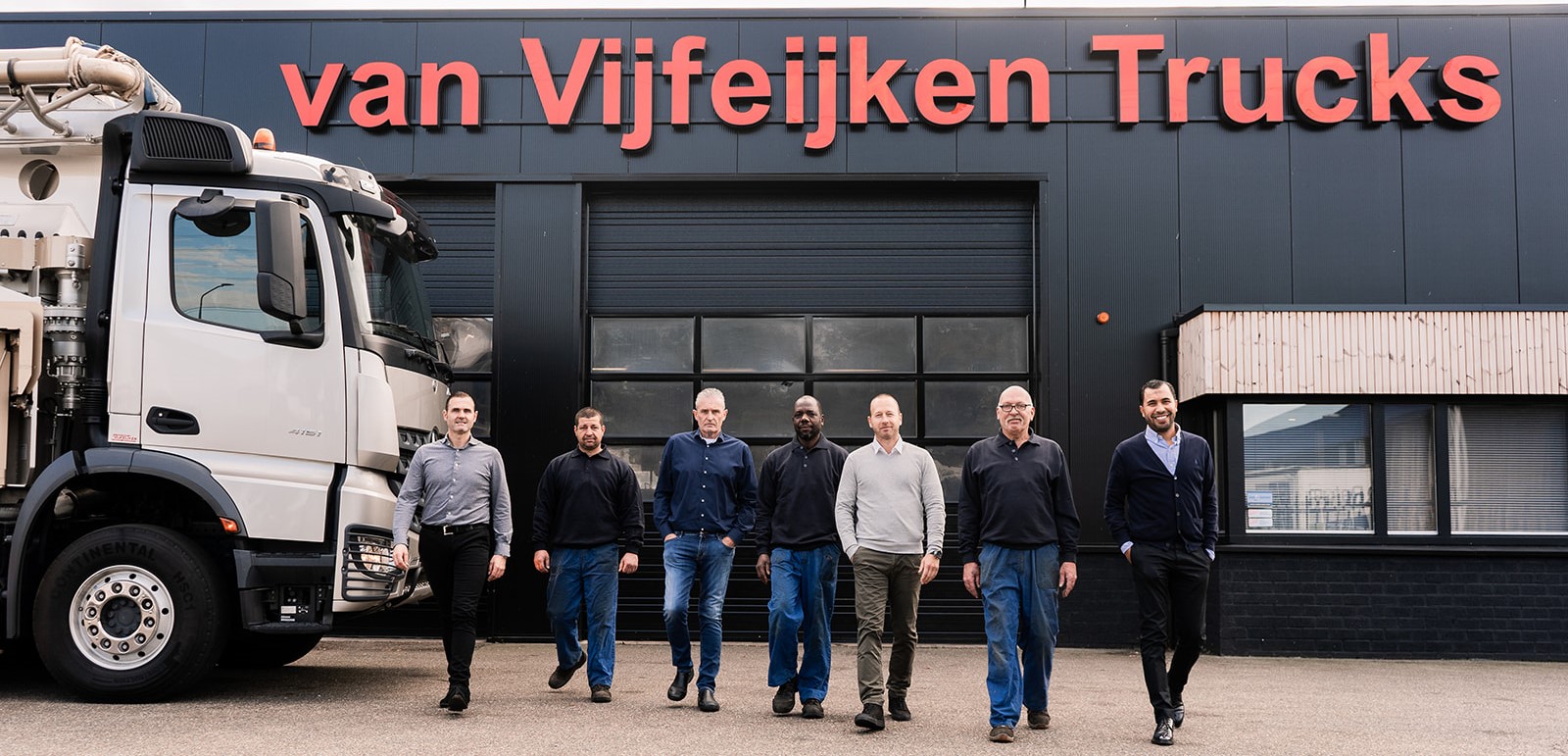 Besides our wide assortment of top dutch quality vehicles we also offer the best services to our clients, this all to assure the best experience to our clients from A to Z. Our services include facilitation of transportation, documentation, airport pick-up service and vehicles quality control. Or are you not able to come by at our site in the Netherlands? We offer remote advice, support and virtual test drives. Our virtual test drive solution offers the ability to test drive a vehicle you are interested in from anywhere in the world. Signing up for a virtual test drive is as easy as 1,2,3, just send an application form and we will be in touch with you shortly. 
Do you have any questions or concerns? Our experienced and knowledgeable team is here to help you 24/7. We speak Dutch, German, English, Spanish and French. 
Total stock
Meet our team
WE ARE HERE TO SERVE YOU